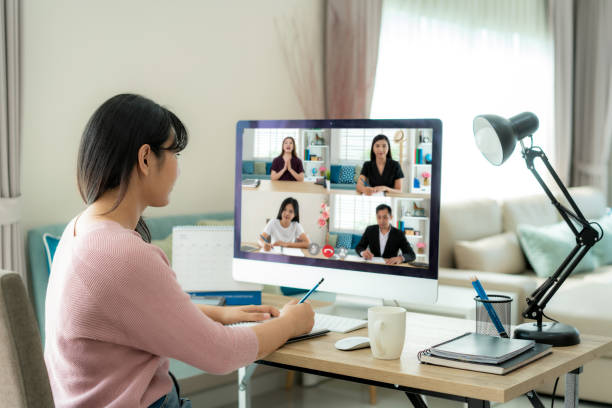 Todays world has become increasingly virtual, with more employees working remotely. Many businesses are focusing on the need to have effective virtual teams, as more employees are working remotely.
However, creating and managing virtual teams can be difficult. There are many challenges that come with having a virtual team. This includes managing communication, collaboration, productivity, and more.
This is why it is important to know how to set up your virtual teams so that they function effectively and are successful.
What is a Virtual Team?
A virtual team is a group of employees who work for the same organization but are located in different places, have different time zones, and come from different cultures. Virtual teams are groups of employees who work together even though they are in different locations. They communicate with each other using technology instead of meeting in person.
A traditional team is a group of people who work together in a central location, while a virtual team is a group of people who work together from different locations. Workers who are not physically present in an office can still be productive if they have an internet connection and the right tools. This allows virtual employees to choose their own working hours.
When working with virtual team members, it is important to focus on collaboration and communication, as this will affect the team's effectiveness.
What Are the Different Types of Virtual Teams?
1. Project teams are typically created for a specific purpose and are not permanent. To reach the objective, various projects are established, necessitating project teams. The projects can last for either a day or a few months. There is a virtual team leader who is responsible for the productivity and performance of team members, just like in a traditional team.
2. A management team is a team of individuals who work together to achieve organizational goals. This team is different from a project team in that it focuses more on organizational goals than on individual goals. A management team may be brought in when a company wants to improve its processes or systems.
3. These employees are responsible for training other virtual team members. They rely on collaboration communication tools to deliver training. Companies that want to train new hires typically use training teams. It enables them to create a learning environment without being physically present.
4. Service or support teams are composed of employees who resolve issues within organizations. With virtual teams, you can have support staff working at different hours, depending on their time zones, which means an organization can offer 24-hour support.
5. Product teams are teams that are created to develop new products. This is different from project teams, which may be created for a variety of purposes. The groups are usually small and work together to make sure the product meets the requirements.
6. An operations team is a group of people who work together to achieve an organization's goal. This job might entail making sure orders are fulfilled quickly and delivered on time, keeping projects on track, and improving processes.
7. Growth teams are responsible for expanding the company and increasing profits. They help to increase market share, sales and expand operations. The growth teams are made up of those working in sales and marketing.
What Are the Advantages of Virtual Teams?
1. You can find and hire the top talent from anywhere in the world. When you have virtual teams, you can hire the best talent from anywhere in the world, rather than being restricted to hiring locally. You can access talented individuals around the globe. This allows you to more easily find the best person for the job, which in turn leads to the development of better products or providing a higher level of service.
2. Lower cost – Having virtual teams saves money. Without having to pay for office space, travel expenses, and benefits, you are able to save money. The money you save can be used to buy new tools or to pay for extra training for your virtual employees.
3. Virtual employees are able to work at times that are more convenient for them due to the flexibility of their schedules. This helps reduce stress levels and increases employee satisfaction. Building trust is important for virtual employees so that they feel like they are part of the organization even though they are not physically present in an office environment every day.
4. Since virtual employees do not have to commute to an office daily, they can get more done in less time, resulting in higher productivity. Since they spend more time focused on their tasks, they will also be more productive.
5. To be seen as a leader in any industry, increased innovation is important. Having virtual teams encourages creativity and innovation. Team members can easily work together, which lets ideas flow smoothly.
6. Virtual teams are more likely to have reduced turnover. People who work from home are able to manage work and their personal life more effectively than people who work in traditional office spaces. Employees who telecommute are more likely to maintain their current positions for a longer period of time than those who work from a traditional office setting. This is likely due to the increased freedom and flexibility that working from home affords.
7. An organization with employees around the world creates a more global image for the company. This demonstrates that they are committed to diversity, inclusion, and innovation, which enhances their brand image. Having virtual employees makes it easy for a company to become a global brand.
The appeal of forming virtual teams is clear. Employees can manage their work and personal lives in a more flexible way, and they have the opportunity to interact with colleagues from all over the world. Companies can use the best global talent and significantly reduce their real estate costs by working remotely.
But virtual teams are hard to get right.
How do you create and lead an effective virtual team? To successfully navigate collaboration challenges, you must have the right team, leadership, touchpoints, and technology. By following simple, high-return practices for each type of team, managers can maximize the productivity of virtual teams.
The Right Team
Team composition should be your starting point. You need to hire (or develop) people who are good at virtual teamwork, put them into groups of the right size, and divide the labor appropriately if you want to be successful.
People.
Good virtual team players have some things in common: they can communicate well, they're emotionally intelligent, they can work independently, and they can recover from the setbacks that always happen. It is important to be aware of and sensitive to other cultures when working in global groups. When leaders are looking to build a team, they should use behavioral interviews and personality tests to find individuals with all of the qualities they are looking for. The Myers-Briggs test is one example of a personality test that could be used for this purpose. If you inherit a team, use the same tools to take stock of your people and assess their weaknesses; then train them in the skills they're lacking, encourage them to coach one another, and consider reassignment for those who don't make progress.
Size.
One study found that teams have been getting larger, sometimes exceeding 100 people for complex projects. Although virtual teams of any size can be effective,  smaller teams of 10 or fewer people are usually more successful. According to OnPoint Consulting's research, the worst performing virtual teams had 13 or more members. "Social loafing" is one cause. When team members feel less responsible for output, they tend to put in less effort, according to research. The effect referred to in the text begins to take place when teams have more than four or five members. As groups grow, another challenge is ensuring inclusive communication. Hackman found that in order to ensure that every team member has a chance to speak with one another, it would only take 10 conversations for a team of 5 people. However, for a team of 13 people, that number increases to 78. This means that you should not have too many people in your group in order to optimize performance.
Roles.
When projects require the efforts of multiple people from various departments, create subteams based on the needs of the project. Team structure is similar to the three-tiered approach advocated by MIT professor Deborah Ancona, who defines core, operational, and outer team members. The core consists of executives responsible for strategy. The operational group is in charge of leading and making decisions about everyday work, but they don't deal with the bigger issues that the core group takes care of. The outer network of the organization consists of members who are brought in temporarily or part-time in order to utilize their specialized expertise for a particular stage of the project.
The Right Leadership
How to Manage a Virtual Team
Here are some tips to help you manage your virtual team effectively:
Communicate clearly. It is essential to communicate effectively in order to build trust amongst team members. To establish good lines of communication, you must be open with each other. The type of technology a virtual team uses will affect how well they communicate.
Have regular meetings. This will help ensure that team members are kept informed. Keeping virtual team members connected and facilitating effective communication is beneficial. It is important to follow up on action items or decisions made after a meeting.
Establish accountability. When you treat everyone the same, it helps build trust with those you work with online. As a leader, it is important to not only make commitments, but to also follow through on them. If needed, hold yourself accountable.
Provide regular feedback. You won't have the opportunity to have the same types of casual conversations with your virtual team members as you would if everyone worked in a traditional office setting. Provide regular feedback to your team members. This will keep them motivated and engaged.
Recognize achievements and outstanding performance. Recognizing employees who have done more than what was asked of them can help create a healthy culture and work environment. Give credit and celebrate their successes. You can give rewards to team members who do well to keep them motivated.
The Right Touchpoints
It's important for virtual teams to have face-to-face time together. Here are the stages at which it's most critical:
Kickoff.
A meeting at the beginning, whether face-to-face or through video if not possible, will help a lot with introducing teammates, setting expectations for trust and honesty, and making team goals and behavioral guidelines clear. Personal connections can be created by eye contact and body language. This allows a group of strangers to develop "swift trust" and work together before long-term bonds are created.
Onboarding.
Too often, plans for bringing new people onto a virtual team do not involve face-to-face interactions and instead consist of a short e-mail or conference-call introduction to the rest of the group. Newcomers are also given a dozen or more documents to read and digest. The best thing to do is to give them the same in-person welcome you gave the group.
Milestones.
Although virtual team leaders may send e-mail updates and hold weekly conference calls with team members, these activities alone are not enough to sustain motivation and momentum. When you can't see someone's face or body language, it's easy to misunderstand them, especially if you're on a large team. When team members feel disconnected and less engaged, their contributions to the project will naturally decline. BY HOLDING REGULAR MEETINGS, you can get people together to celebrate the achievement of short-term goals or to crack tough problems.
The Right Technology
It is important to choose the right technology for your virtual teams because it will have a big impact on their success. When choosing the right technology, here are a few tips to consider.
5 Tips for Choosing the Right Technology for Your Virtual Team
1. If you want your virtual team to be successful, you need to have multiple communication options. This way, if one method of communication fails, you have others that you can rely on. The technology you use should make it easy to have a video conference, share files or documents, chat, and email. If you have more than one option, you can communicate more effectively with your virtual team members.
2. Your virtual team members need to know what their priorities are for each day, and project management tools can help with that. A tool that can help you achieve this goal is a project management tool. It provides a place for team members to view tasks, deadlines, and other information together.
3. Since your team will use many tools, it is important that they are able to integrate with each other in order to maximize efficiency.
4. Make sure that you have more than one user for your tools so that you can keep track of who needs to have access to what. Make sure that the people you want to share files with have access to the tool.
5. The easier it is to use, the more likely your team are to get the most out of it If a tool is easy to use, people are more likely to use it to its maximum capabilities.
When collaboration platforms include all of the elements above, they become the center of team activities, and using them increases efficiency, rather than creating extra, unnecessary work.
THE PROBLEM: YOUR BUSINESS ISN'T GROWING AS FAST AS IT SHOULD!
Your sales have stagnated or decreased, and you can't figure out why. Discover what's holding you back from achieving predictable sales growth in your business.
If you want to grow your business, you need a proven plan and framework. That's what you get with the 2X Your Sales Discovery Session.
Want to learn about a formula for Predictable Growth that will put your business on a 90-day path to 2X Your Sales?